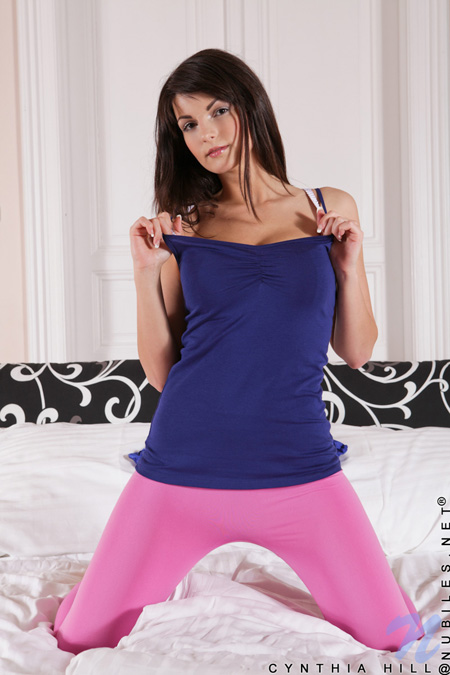 22 year old Cynthia Hill loves to masturbate. A lot. Most days one orgasm just doesn't cut it… this insatiable hottie usually needs at least two in order to function like a normal human being. While she's busy stuffing her pussy with a myriad of toys, one of two thoughts usually occupies her naughty mind – either the hottest fuck session she's ever been part of, or the most erotic fantasy fuck she's still waiting to be a part of. As she stripped off her body-hugging pink pants and navy blue tank top, Cynthia started with the steamy fantasy she's already been lucky enough to experience.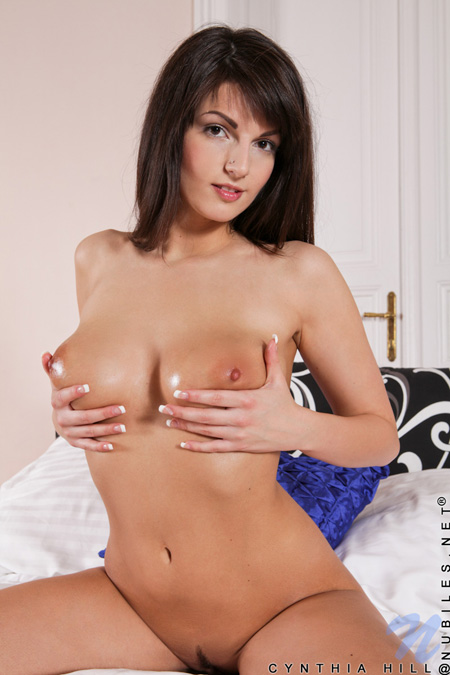 "I was hanging out at a girlfriend's house one night, watching movies and having some drinks when her boyfriend came home early. They asked if I wanted to join the two of them in bed, and of course I couldn't say no!" As Cynthia got deeper into her hottest memory, she began drizzling scented massage oil on her huge natural tits. She let it trickle in slick trails over her hardened nipples before getting to work massaging her big round boobs. As she lubed and massaged them in big circular strokes, she continued with her story. "They both focused on me so much… I just loved all the attention! We licked, fucked and sucked in every position and from every angle, but my favorite part was when I was riding him in reverse cowgirl position. She was licking his dick while it slid in and out of my pussy, and every time he buried his cock inside me, her tongue would land on my clit. Pretty soon she was just going at my pussy like she almost forgot her boyfriend was right there fucking me at the same time. It was so fucking hot I can almost cum just by thinking about it!"




Cynthia positioned herself on her knees and ran her hands down her stomach and over her hips to her inner thighs. As she stroked back up the insides of her thighs, her hands brushed against her moist pussy and her whole body shuddered. A wicked grin spread over her face as she parted her soft pink pussy lips with one hand. Her other hand found her swollen clit and started massaging it, slowly and softly at first, growing more frantic as she started with her unfulfilled fantasy. "The only thing I can think of that would be even hotter than that would be to have a threesome with two other girls," she continued. "A naked, sweaty, passionate lesbian threesome. It would be so much fun to just go all out with two females at the same time." Cynthia's hips started pushing forward as if trying to trick her finger into sliding into her juicy wet hole. She was so turned on by that point that she was already half-way to orgasm and she hadn't even penetrated her aching pussy yet. You can see for yourself how she makes herself cum by going to Nubiles.net, where you can see the whole erotic set in high quality pics and video.