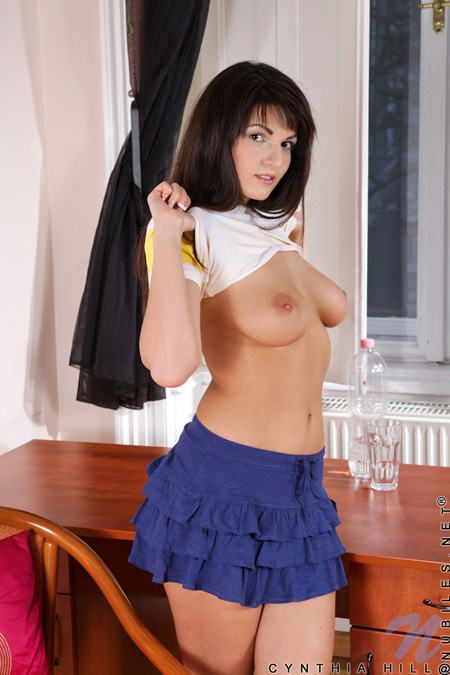 Curvy Czech beauty Cynthia Hill has tits that would make any red-blooded man do a double-take. They've been her pride and joy since she first started growing them, and yes… they are 100% natural. "I love my tits!" Cynthia told us. "I always had so much fun teasing the boys in school, especially when I was so much bigger than all of my friends. Whenever I wore a low-cut top, boys would literally trip over themselves and run into walls because they were so busy staring at my boobs." She laughed affectionately as she recalled her school days, and then added "Actually some grown men STILL do that!" She lifted her shirt to back up her claims, and sure enough… a pair of full round titties were unveiled. Absolute perfection!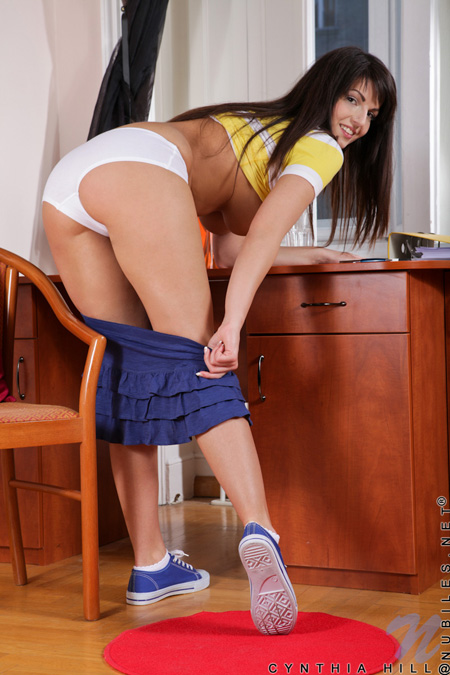 Now that I'd seen how beautiful her boobs are, I couldn't wait to check out the rest of her body. Cynthia turned around and playfully flipped up her short ruffled skirt, and I half expected to see a bare naked booty peeking out. But the way her white cotton panties hugged her curvy ass was a pleasant surprise. When she bent over to pull off the skirt, I caught a glimpse of her pussy lips contoured through her panties. It might have been my imagination, but I thought I even saw a moist spot on her panties, showing that Cynthia was just as turned on as I was by then. The way her big titties hung as she bent over was just the icing on an already delicious cake.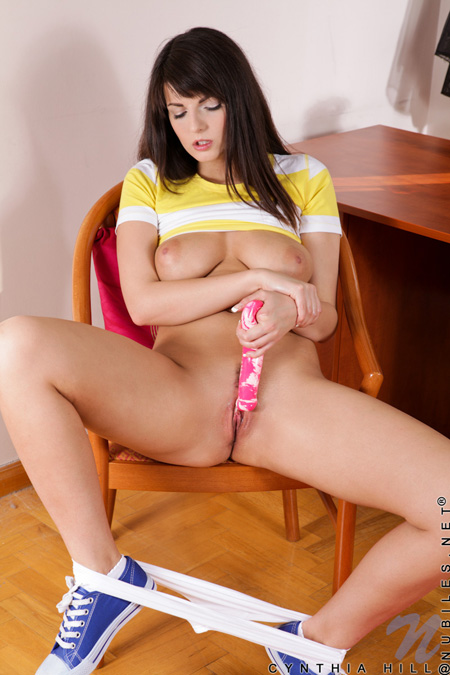 Cynthia took a seat in the chair, sliding her panties down her legs at the same time. She scooted her ass forward and leaned back, then reached into a drawer in the desk for a fat pink dildo. "I have toys hidden in every room of my house," she laughed. "What can I say… I love my toys!" She slid the head of the toy up and down over her pink pussy lips, then between them, getting the head nice and slick from her glistening pussy juices. Then she focused the rounded end of the sex toy on her clit, gliding it up one side and down the other, making an up-side-down U. Cynthia's clit grew slightly bigger and more flushed with each U she traced, until finally she let a soft moan escape from her lips. I could tell by the way she spread her legs open even wider and pushed her hips forward that she couldn't wait to feel that fake cock pushing into her wet twat… couldn't wait to cum. Watch Cynthia take her sweet pussy from aching to orgasmic til she cums all over her lucky pink dildo, exclusively at Nubiles.net.