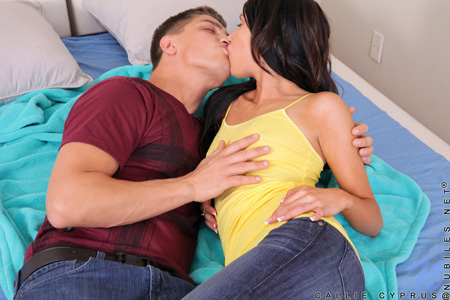 Eighteen year old college girl Callie Cyprus has had her eye on this guy for quite a while… ever since the first day she saw him in class. She's been flirting with him all semester but wanted to wait until the end before making her move. "I'm not looking for a boyfriend right now. If I wait until we don't have a class together anymore, I won't have to worry about things getting awkward," she said. Smart girl! However, that all changed when she found out she could bring her own stunt cock to this hardcore shoot. "I immediately thought of him! I'm never shy about asking a guy out, but I was so nervous about asking him if he wanted to do a porn shoot with me. He thought I was joking at first!" I'm betting there aren't too many guys out there who would say no to a chance to do a sex video, and even fewer would turn down an opportunity to fuck the drop-dead gorgeous Callie Cyprus. She's something of a legend around campus already.




The chemistry between the two was immediately evident. You could almost see sparks flying off their lips as they made out on the bed, their hands exploring each other's bodies for the very first time… through their clothes in the beginning, and soon over naked skin. It wasn't long before wandering hands turned into roving tongues, and he didn't need to be told twice when Callie told her guy "I love having my pussy licked." Almost before she had finished her sentence, he had his head between her legs with his tongue expertly massaging her clit. He ran his tongue down between her moist pussy lips and found her sweet fuck hole. Callie started pushing her hips closer to his mouth, trying to get his tongue deeper in her tight wet pussy.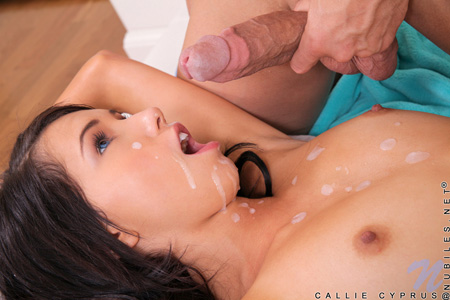 That was just the beginning of an intense fuck session. These two went at it for almost an hour while we shot some of the hottest pictures and video we've seen in a long time. Callie's cunt was fucked nearly raw from just about every angle imaginable, but it wasn't until she's had her third orgasm that her lover finally let loose on her. He couldn't hold off any longer, and I'm guessing it was only nerves that held him off as long as he did. He gave Callie's soaking wet pussy one final pump and asked her where he should cum. "On my face. Cum on my face!" she blurted out, and opened her mouth wide to make sure to get a taste. He unleashed his long awaited climax all over her beautiful face and perfect tits, leaving Callie a sticky (but very happy) mess. You can check out all of the pussy pumping action and even watch Callie cum all over her college stud's cock, exclusively at Nubiles.net.