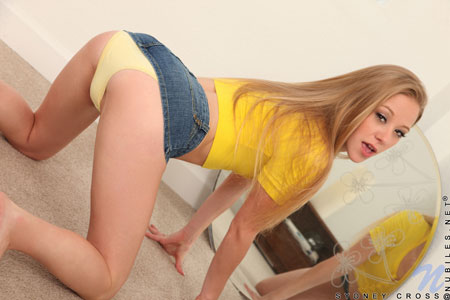 The beautiful 21 year old Sydney Cross is the perfect combination between fast-talking tomboy and super sexual woman. Putting in tons of time in the gym and the pool helps keep her body toned, but what really sets Sydney apart from her work-out buddies is her sex drive. "Almost everything turns me on. I really think I'm just naturally horny." It's almost impossible for Sydney to get through a day without masturbating at least a couple of times. She especially likes to use toys to help pleasure her pussy until she cums.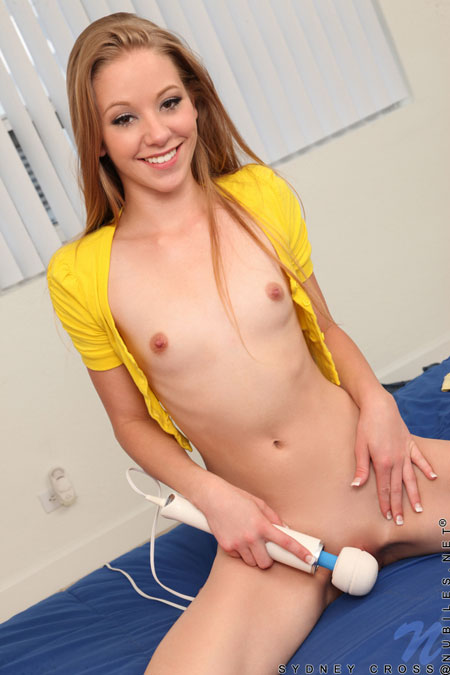 Sydney was happy to show us her favorite moves for self-pleasure, starting out on her hands and knees as she thrust her ass into the air to show us her yellow panties beneath her short denim min-skirt. She spreads her legs wider and alternates between watching herself in the mirror and smiling at the camera as she strips down to just her tight yellow shirt. Her freshly shaved pussy gleams with her juices as she gives us one last look at her soaking wet twat before heading over to her bed where she has left her favorite magic wand vibrator.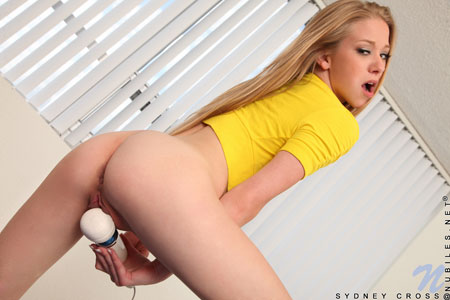 Unbuttoning her shirt and letting it frame her small perky tits and her rock hard abs, Sydney puts on a sexy smile for the camera as she slides the vibrator over her pussy. "I often fantasize about having sex in public while I masturbate, but for now the closest I've come to that is porn." Pinching her rock hard nipples with her free hand, Sydney soon loses herself in the pleasure vibrating up from the magic wand through her pussy. She gives us quite a show as her sighs turn into moans and she hurtles towards an orgasm. When she turns onto her stomach, we can see that her twat has filled with so much cum that it glistens on the head of her vibrator as she spreads it all over her pussy. To watch Sydeny's orgasm rocket through her, and for all of the hottest girls online, head on over to Nubiles.net.