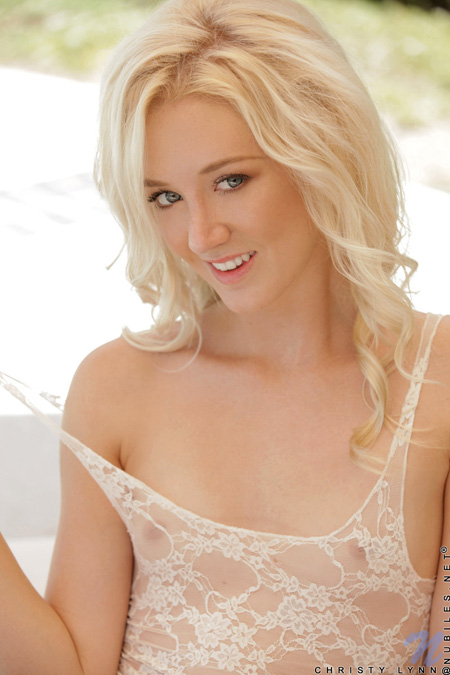 21 year old Christy Lynn has always been one of the guys, but recently she has decided to embrace her feminine side, too. "I love BMX and trucks and all kinds of other stuff. I've even done some professional modeling for BMX! None of that's very girly, though. I think it's hard for my guy friends to see me as a woman, and I'd like to change that." Taking up adult modeling is one way that this all-American girl is trying to break free of her tomboy reputation, and she's quickly learning that she's a natural. With her long blonde hair, big smile, and California tan, Christy has the goods our cameras love to capture!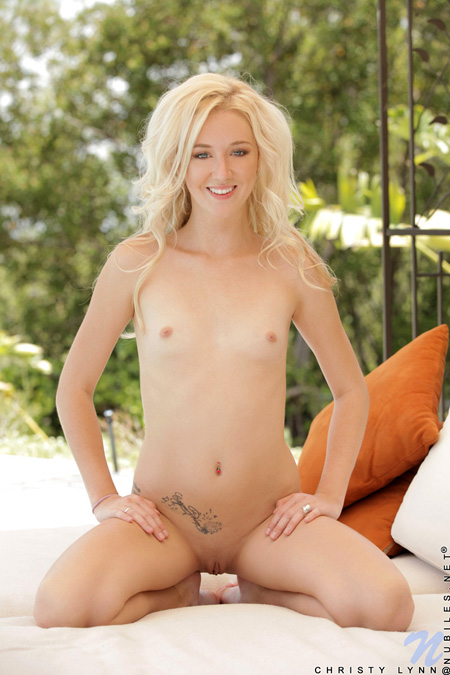 Dressed in a sheer filmy top that clings to her little boobs and gives glimpses of her pink areolas, Christy gives a smile that shows a glimpse of shyness that she tries to laugh off. "This is still pretty new, but I don't know why I'm nervous. I've modeled before in skimpy clothes and now I'm really excited to show myself off." She toys with the edge of her top, and then slowly pulls it over her head to expose her silky skin to the warm summer air. Her panties are next to go, and soon she is kneeling nude on the chaise lounge.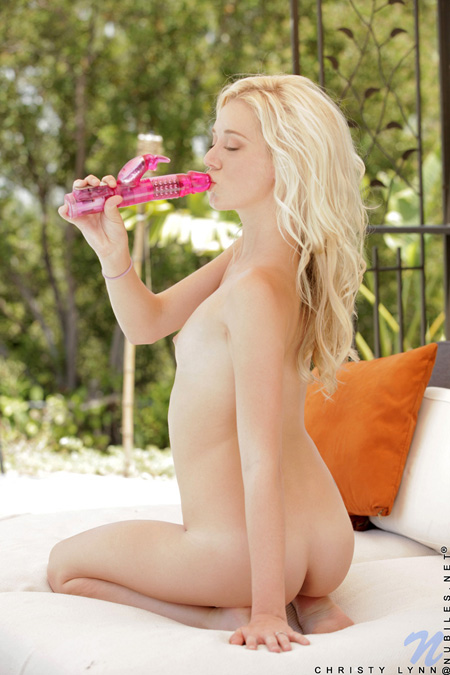 Reaching beneath one of the pillows, Christy pulls out a pink Rabbit vibrator and gives it a kiss. "You are going to make me so happy in a few minutes!" First, though, this cute coed needs to get herself warmed up and ready to take all her toy has to offer. Palming her tiny tits in her hands and pinching her puffy nipples, Christy slowly works her way down her belly and presses the heel of her hand against the shaved mound of her pussy as she begins to masturbate. If you want to watch this blonde goddess use her fingers and her vibrator to get herself off, head over to Nubiles.net now!