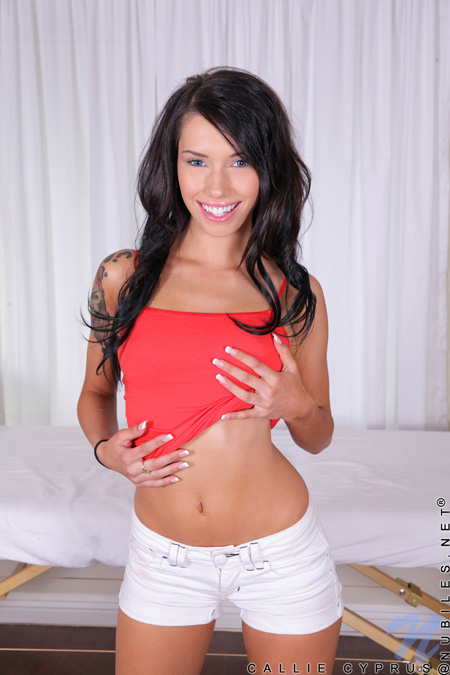 Beautiful beach bunny Callie Cyprus is just eighteen years old, but has the sexual awareness of somebody with many more years of experience. She learned early on that her stunning looks and flawless body can get her just about anything she wants and is never afraid to use her unending sex appeal for her benefit. "In seventh grade I flashed my boobs to a boy in exchange for half of a bottle of Malibu Rum that he had snuck from his parent's liquor cabinet. That's when I realized the power a pretty girl can have if she knows how to use it," Callie admitted to us with a laugh as she looked back with fondness at her favorite moment of self-discovery. She was happy to show off her weapons for the camera today, and pranced around playfully in a coral-colored tank top and the tightest white shorts imaginable. They were so tight that I could see her pussy lips straining against the fabric between her legs.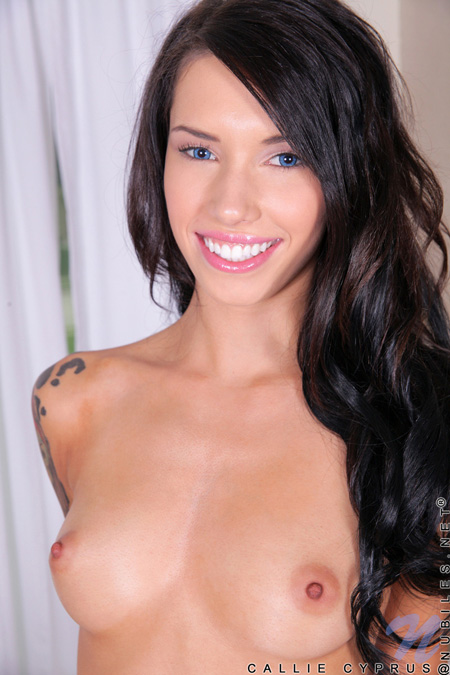 Dancing seductively for the camera, Callie slowly stripped off her tank top, revealing a pair of perfect tits that left the whole crew without words. A little on the small side, they were so round and perky with perfectly sized nipples. Callie licked her fingertips and brushed them across both nipples, making them instantly erect and craving more. She played with her tits for a couple of minutes before peeling off her skin-tight shorts and the tiny blue thong that she wore underneath. As she stood in front of me totally naked except for a pair of knee-high argyle socks, Callie resembled a piece of living art… created for the sole purpose of being admired.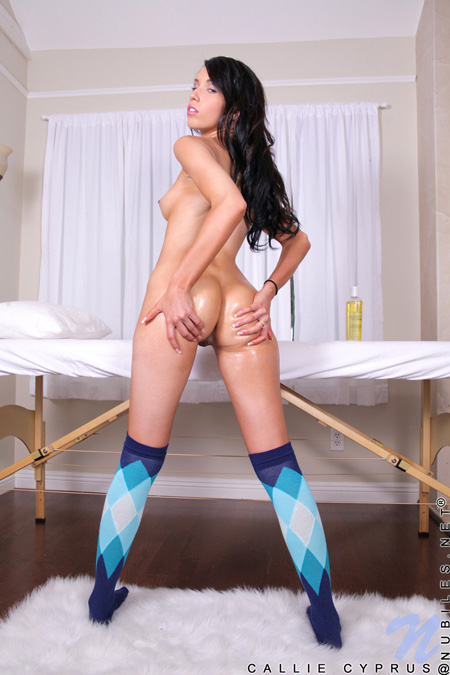 Armed with a bottle of massage oil, Callie was more than ready to put on a show. This is a girl who LOVES being the center of attention, whether it be in front of one person or a hundred, and it definitely shows. Every movement was deliberate and meant to please. Slowly and seductively she drizzled the oil over her breasts, then turned around to saturate her butt. I have said many times over the years… "she had the hottest ass I've ever seen", but Callie's wiped all of the previous perfect asses off the list and filled in every space on my top ten hottest asses list. Hers is seriously perfect! There's not one thing I would change about it. I didn't think it was possible, but once her delicious round booty was slicked up and glimmering with massage oil, it was even hotter than it had been two minutes earlier. As she massaged her dripping ass, spreading her cheeks apart now and then to flash glimpses of her tight pink pussy, I was willing to bet everything I owned there there was not a limp dick in the room. All the attention was making Callie's pussy grow wetter by the minute, but if you want to see how she alleviates her growing desire, you'll have to go to Nubiles.net, where you can find the whole sexy set in high quality pics and video.