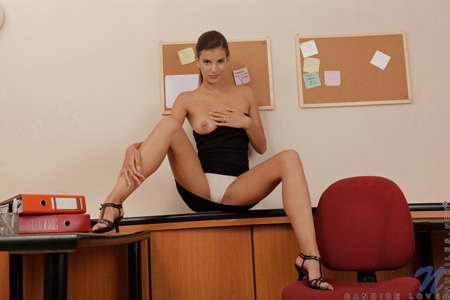 Studying for college exams can be boring, but 20 year old Czech brunette Candice Love has a great system in place. "I like to reward my hard work. Touching myself when I study is a great reward and it motivates me to keep going. Most of the time, anyway!" As she hits the books for her upcoming tourism exam, Candice is dressed for her version success. A black strapless tube dress that hits her at the tops of her long slim thighs gives her perfect access to her perky little tits and her horny pussy. With the promise of pleasure to come it's easy to motivate herself to start reading!




Within only a few minutes of study, Candice's hand has already strayed to the top of her dress and pulled it down to reveal one of her rounded breasts. Her big areola pebbles as she plays with her hard nipple. Soon she removes her other breast to give it the same treatment. Her attention stays on her books, but her soft sighs of pleasure give away how much she loves the feeling of playing with her tits. "This material isn't as difficult as I thought it would be. That's a good thing since I don't know how much longer I'll be able to pay attention."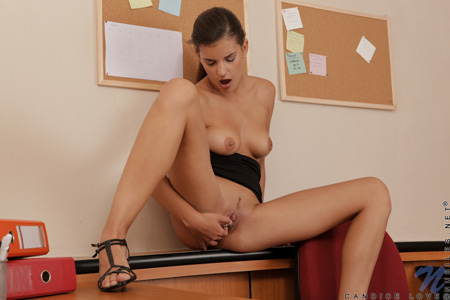 Pushing her books aside and climbing onto the desk, Candice gives up all pretense of studying. She hikes her miniskirt up to her waist and pushes her simple white panties to the side to give herself access to her pink shaved slit. "Now it's time for my reward." Pushing two fingers into her tight hole, Candice pulls them out and spreads her juices all over her slit. Focusing her attention on her sensitive clit, she works herself towards an amazing orgasm. You can check out Candice's study session in high definition pics right now only at Nubiles.net.