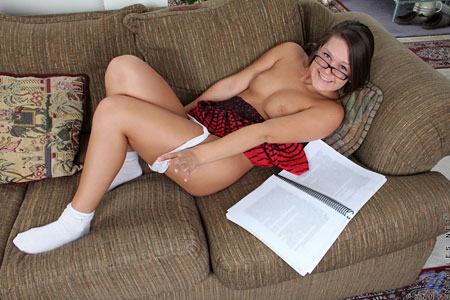 22 year old Penny from Alabama is studying hard to get her degree in theater, but this college girl knows that life is boring without time for play! "You'd be surprised how much reading there is even in something as active as theater. I like to take regular study breaks to masturbate. It really helps me focus when I'm physically sated." We caught up with Penny during one of her study sessions when we arrived for our shoot, and we immediately saw what she meant about needing regular breaks. The curvaceous brunette was already half naked with her shirt and bra lying behind her on the floor!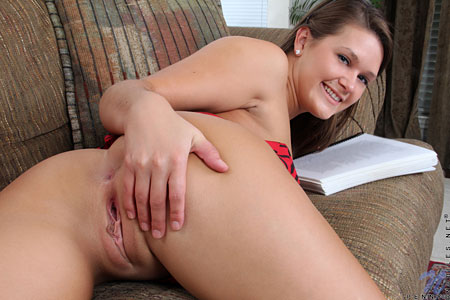 Encouraged by our presence, Penny massaged her firm natural breasts and pinched her little nipples until they pebbled into hardened peaks. "Getting naked while I do my reading is a great way to reward myself for making progress. When I've taken all my clothes off I know I've studied long enough." We watched quietly as Penny continued to read and remove her clothes slowly, almost absent-mindedly. Hiking her skirt up, she slid her white cotton panties down her long smooth legs. When she rolled onto her stomach and spread her legs, we caught our first glimpse of her wet pink pussy.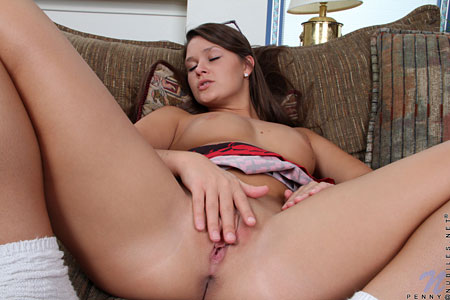 Penny tried to continue reading on her stomach, but the hand she had used to playfully cup her generous ass for the camera slowly moved down to massage her shaved twat. We could tell by her moist glistening slit that she was too turned on to keep concentrating on her schoolwork. Sure enough, a few minutes later Penny pushed her book off the couch and rolled onto her back. "I think I've definitely earned my break now. I can't wait any longer!" Spreading her legs wide, Penny rubbed her sensitive clit to work herself towards a well-deserved orgasm. You can watch Penny take a pleasurable study break right now only at Nubiles.net, where you'll find all of the cutest college coeds online.