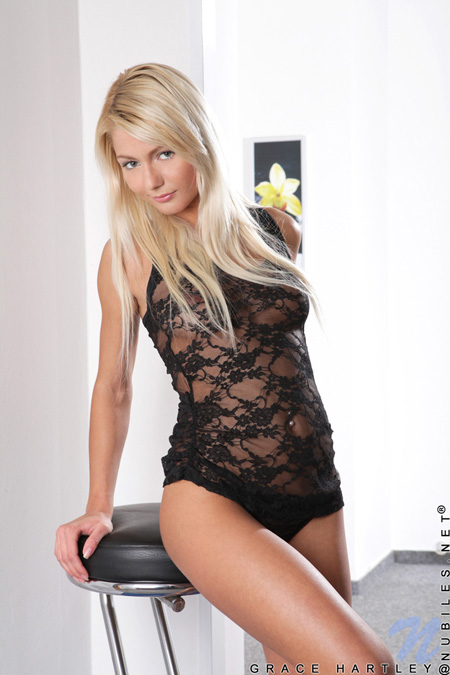 When we featured 19 year old Czech beauty Grace Hartley in March, she was an instant star! We loved working with her and our fans loved her, so we decided to bring her back. Dressed in sexy sheer lingerie, Grace joins us on the set with a smile. "I love this outfit. It makes me feel so slim and sexy." Slipping onto a stool in the center of the room, she parts her legs to give us a tantalizing glimpse of her shaved pink pussy beneath her lacey panties. We can tell how turned on she is by the little pearls of moisture glistening in her wet slit.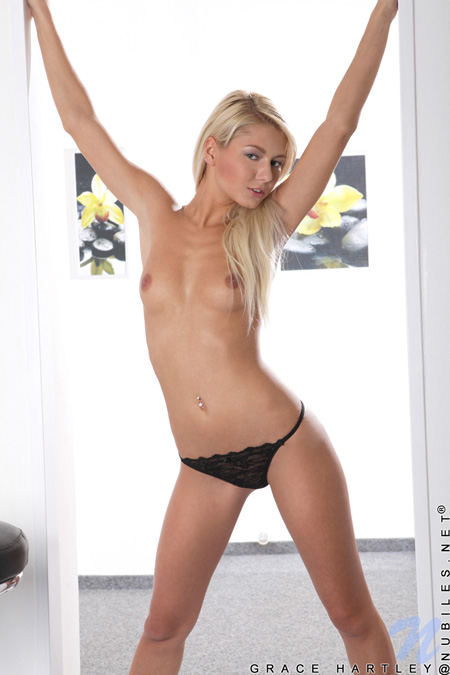 Grace let us take several photos as she posed in various positions before she stood up again. "This is fun, but I'm thinking it's time for something a little bit more active." She slides first one strap of her slinky camisole off her shoulder, and then the other. With a shimmy that would bring any man to his knees, she slides the filmy material down her body.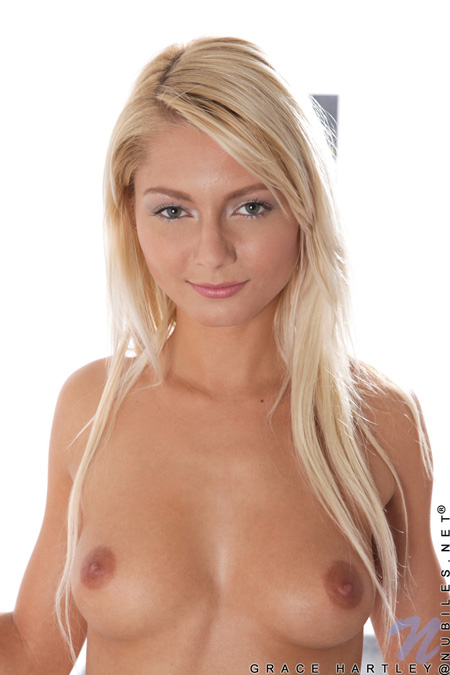 Turning to us wearing only her panties and a smile that says she knows exactly how much we want her, Grace tosses her lingerie top at one of the camera men. "Keep it. Consider it a souvenir." Walking over to the doorway, she stretches her slim tanned arms up in a pose that shows off all of her delectable curves. Her long blonde hair falls over her shoulders to partially cover her big areolas. We love the way her hard nipples peak out through the curtain of hair, especially as Grace brings her arms down and her perky tits settle into perfect round globes. You can check out all of Grace's new high definition photo sets and videos now only at Nubiles.net.