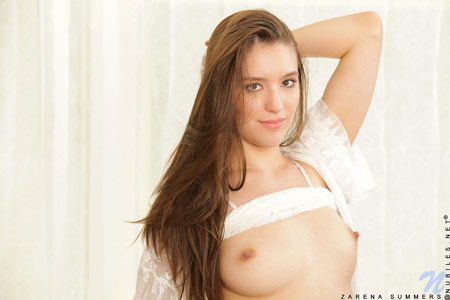 21 year old Zarena Summers is used to the finer things in life. "I grew up with money and the best of everything. I don't know how people get by with anything less!" When we suggested a hard core shoot, this pretty princess agreed only under the condition that we arranged for the setting to be a massage scene. "I was planning on getting a massage this week anyway, so why not get a hot guy to do it? And the best part is that if he's good he can fuck me at the end."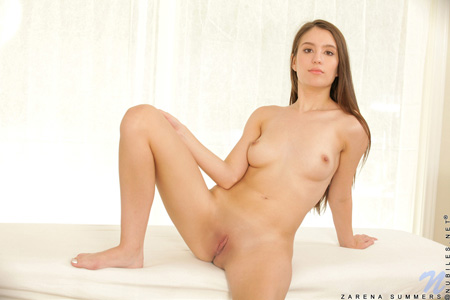 Zarena arrived on the set dressed in demure, classy white outfit that clearly outlined her little areolas and hardened nipples. We could tell she wasn't wearing a bra by the way her medium sized boobs jiggled when she walked. She treated all of the crew as though we weren't there, stripping out of her clothes and climbing onto the massage table and stretching her legs to reveal her shaved pussy. Then, as she prepared to lie down, she frowned. "I thought I was getting a real massage. Where's the soft music and the oils? And where's my masseuse?" We all believed we were about to see this rich girl throw a tantrum until she got what she wanted.




Zarena's man chose that moment to join her on the set. We knew the instant Zarena set eyes on him that everything would be just fine. She stared at her beau with a hungry expression that told us all her other concerns were forgotten and that she had sex on her mind. "You look like you know how to give a girl exactly what she wants." Her masseuse assured her that he was trained in pleasing his clients even as he urged her down onto the table. Their massage started off chaste, but it quickly evolved into an incredible, sensual experience! You can watch Zarena receive a full body massage complete with a very happy ending right now, only at Nubiles.net.