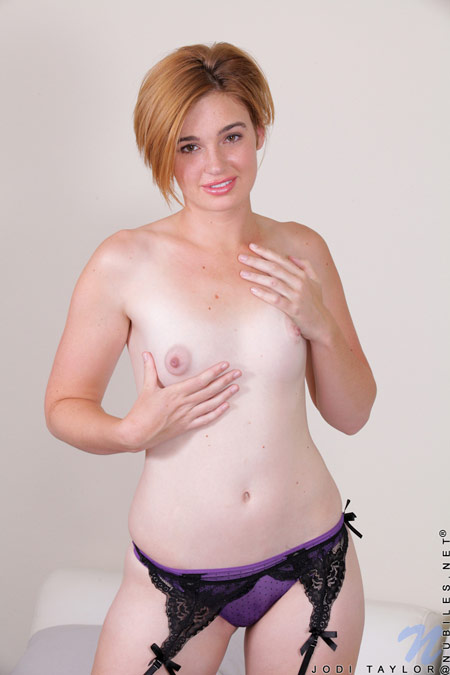 When 19 year old Idaho native Jodi Taylor told us that she wanted to try some naughty lingerie during her shoot, we were happy to accommodate her. "I've always been a big fan of toys. They're so fun to buy I'd almost call it an addiction! But lingerie is a little bit different. I'm just so shy about trying anything new there." We assured her that we would love to see her in some sexy lingerie. The more scandalous, the better! When she came onto the set wearing just a pair of purple panties and sheer black stockings with garters, the entire crew felt as though we had won the lottery!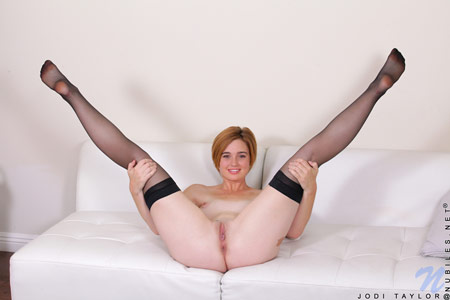 At first, Jodi was a little shy about the shoot. Raising her hands to her little boobs, she covered her nipples and big areolas with her palms and massaged slowly, hiding the gorgeous view from our cameras. "What do you think of the lingerie?" she asked, turning around so we could see the whole show. "Do you like it? Or should I do something else?" Our assurances that we absolutely loved it must have been convincing, because soon Jodi's confidence began to riseand so did her wow-factor.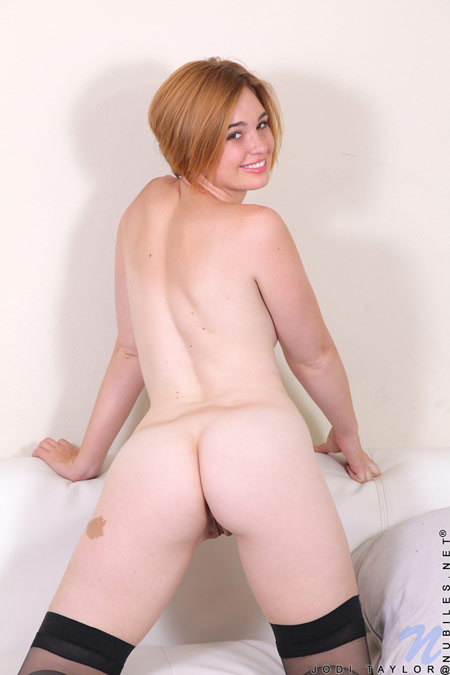 After a little while, Jodi slipped out of her underwear and garter belt, leaving her bare except for the stockings. There is nothing hotter than a girl with rockin' curves looking sexy and confident in thigh-high stockings and Jodi is no exception. Laying back on the couch, she ran her hands down her silk-covered long legs. "I love the feel of stockings on my skin." We weren't expecting it when she abruptly curled her hands beneath her legs and raised them high to show us her shaved juicy pussy, but we weren't about to complain about the stunning view either! Jodi's whole lingerie and stocking photo set is available right now only at Nubiles.net, where you can find all of the freshest hot models online.