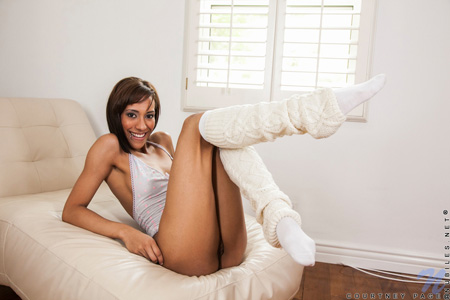 Is there anything better than taking a smoking hot girl out for a night on the town? 26 year old Courtney Page thinks there might be. Although she's dressed up for a night at the club when we begin our shoot, this sexy girl would much rather stay in and have a good time in bed. "I find that dressing up for a night out doesn't always mean I need to actually leave. Sometimes just knowing that I've made the effort to look great makes staying in and pleasuring myself absolutely amazing." Watching Courtney masturbate is already at the top of our list of priorities today, but knowing that she's doing something special makes everything even better.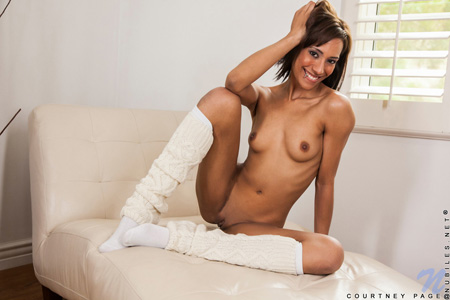 Raising her arms above her head, Courtney slips out of the short silver dress to reveal an expanse of perfect mocha skin that is unbroken by any undergarments. She leaves her knee-high socks on as she climbs back onto the chaise lounge and smiles at us. "This is where the fun really starts. I've made the commitment to staying in but I still want some inspiration for a good time. What do I do?" She playfully taps one finger on her pouty lip as she pretends to think about it. L"Oh wait, I know just the thing."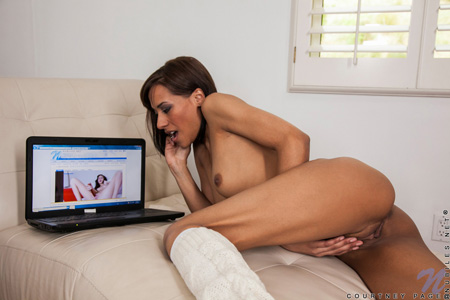 When Courtney reaches beneath the chaise lounge, all of us expect her to produce a vibrator or a dildo but she surprises everyone. "I can't really think of anything hotter than watching porn while I masturbate. Let me show you just how hard it makes me cum…" Leaning forward to get a good view of the laptop screen, Courtney slides her hand down to cup the heat of her slick wet slit. She doesn't waste any time in slipping two fingers deep into her hot horny hole while she uses the palm of her hand to massage her sensitive clitoris. You can watch Courtney bring herself to an incredible porn-inspired orgasm right now only at Nubiles.net, where all of the hottest girls online are brought to you weekly.