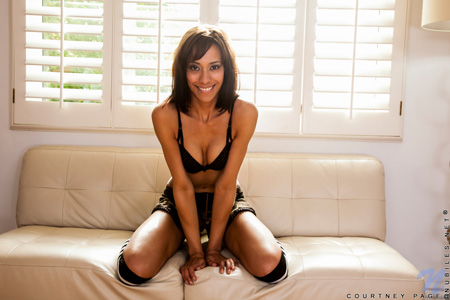 This camera crew has worked with a lot of girls, but few of them have had the natural sex appeal and raw sensuality that Courtney Page brings to the table. With her gorgeous curves outlined by a simple bra and shorts set, Courtney is smoking hot. None of us can keep our eyes off of her-and she obviously loves the attention! "The best thing you can do to get me hot is to spoil me. I don't know if you guys are the type to have a lot of money to throw around, but staring at me that way is almost as good."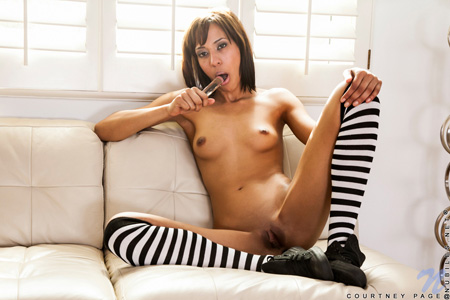 As we watch, Courtney reaches up between her perky boobs to release the front clasp on her bra. "Let me reward you for your devotion," she murmurs as she slides a hand up to tweak her hard nipples with her long tapered fingers. Then she makes our day even better by slipping her hands down to remove her shorts. She's not wearing any panties underneath, giving us a perfect first glimpse of her dark shaved pussy. We're so busy trying to juggle staring with doing our jobs and shooting this brunette babe that it takes most of us an embarrassingly long time to realize that Courtney has settled back on the couch and that she's idly sucking a little glass dildo!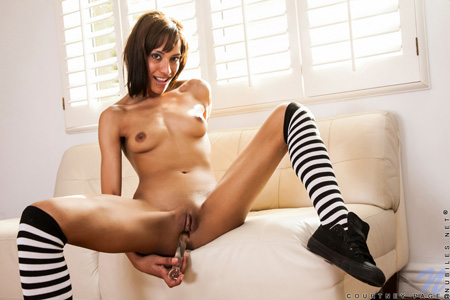 Once Courtney sees that she has recaptured all of our attention, she smiles. "Boys, I love it when you stare but you have to learn what's really important." Spreading her legs wide, Courtney leans back and runs the tip of the lubricated dildo along her juicy slit. Positioning it over her tight hole, she looks back at the crew. "Just making sure I have all of your attention. You're definitely not going to want to miss what happens next." This lovely lady doesn't lie! You can check out what Courtney does with her dildo right now only at Nubiles.net.