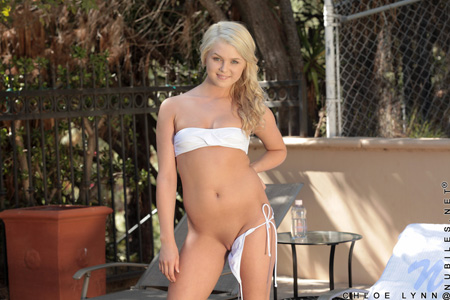 20 year old blonde babe Chloe Lynn must have forgotten that we were due to show up for our shoot, because when we arrived we found her outside sunbathing instead of answering the door! She was startled when we went around to the back yard, scrambling to pull her discarded bikini top and bottom back on. "I didn't think you would be here for another half hour," she laughed when she recognized us. "I thought I could get in some time in the sun. And you know I don't like tan lines." Fortunately for us, our photographer had his camera ready to go and he was able to get some priceless shots of Chloe in all of her tanned nude glory!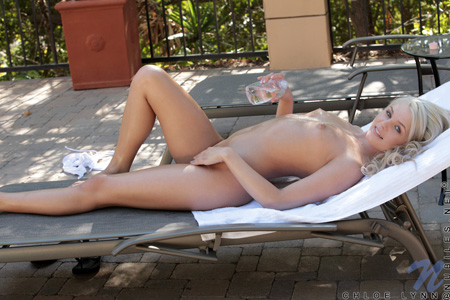 Putting her embarrassment at forgetting the time aside, Chloe quickly got into the moment of the impromptu photo shoot. Tilting her slim hips to the side and letting her sheer bikini bottom fall away to reveal the lips of her freshly shaved pussy, Chloe gave a saucy smile for the camera. "Well, since you're out here anyway, I might as well show you what I was up to." She stripped her top away to reveal her perfect small breasts tipped with puffy erect nipples, and then laid down on the chair she had prepared for herself and grabbed a bottle of tanning oil.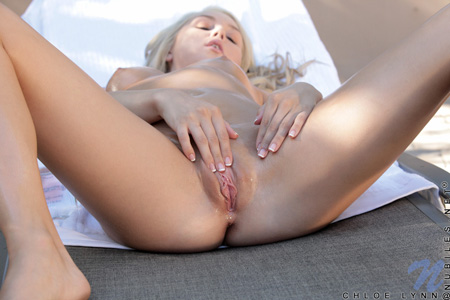 "I like to rub this all over my body to help make sure I get a good tan. It's full of things that are great for making skin soft and supple." Pouring the clear oil into the palm of her hand, Chloe slowly began to massage her flat stomach and her sensitive boobs. Spreading her long shapely legs, she massaged another squirt of oil along her soft inner thighs and into her pouty pink pussy lips. Closing her eyes and sighing a little in pleasure, Chloe moved her fingers to her swollen clit and began to massage herself towards an incredible orgasm. To watch Chloe's entire sensual tanning session and to find all of the Internet's freshest faces, head on over to Nubiles.net.