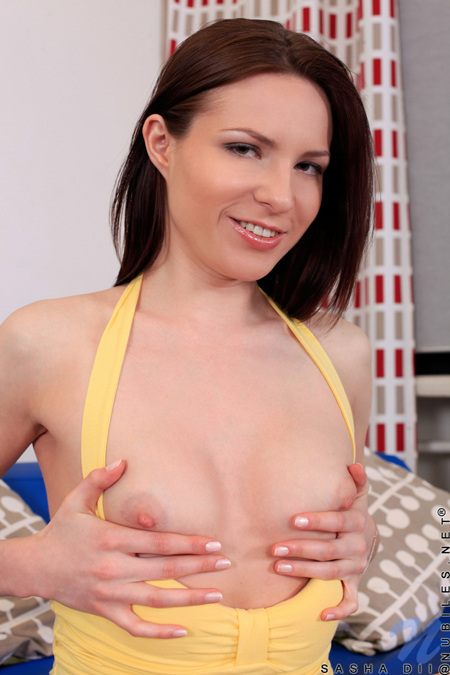 Russian bombshell Sasha Dii loves to show off her sexy slim body on camera, and we love to give her the opportunity! Although Sasha understands that there are times for subtlety, she knows that today's shoot isn't one of them and she dresses accordingly. When she arrived on the set wearing a yellow halter top cut below her perky pert boobs and a denim miniskirt that doesn't quite cover her nicely rounded booty, we just know that our shoot is going to be a great one. "I love to wear this shirt when I'm in the mood to masturbate. It feels really naughty to be so exposed," she explains with a saucy smile as she brings her hands up to cup her small tits with a moan.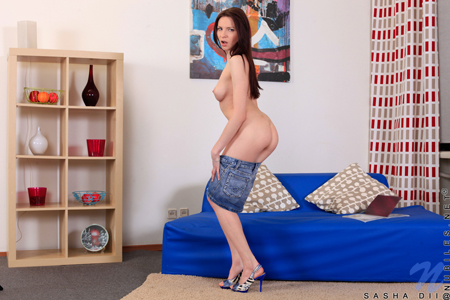 Sasha really wasn't kidding about being in the mood, either! She strutted around and posed for our cameras like a woman on the prowl. Tossing back her long silky hair, Sasha started at her flat belly and ran her hands up her body, taking her halter top with them. After she tossed the halter to the side, she began to slide her tight mini skirt down her legs, teasing us by stripping with her back to us. "I get a lot of compliments, but I think my favorite part of my body is my back. There is nothing more beautiful than the curve of a woman's body." We can all agree that Sasha has a perfect profile.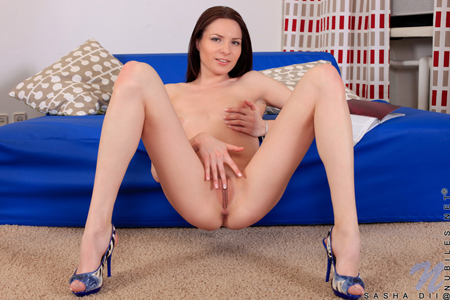 When the last of Sasha's clothing was removed, she leaned back against the mattress and propped herself up on her high heeled shoes to show us her drenched freshly shaved pussy. "Usually when I masturbate I like to use my toys. I have so many of them that it can be hard to choose sometimes! But I don't have any toys nearby and I'm too horny to go get one, so I'll just make do with what I have." Even as she confided this to us, Sasha used one hand to finger her juicy clit while her other tweaked her puckered nipple. You can see Sasha's sensual self-seduction and all of the sexiest girls on the web now only at Nubiles.net.