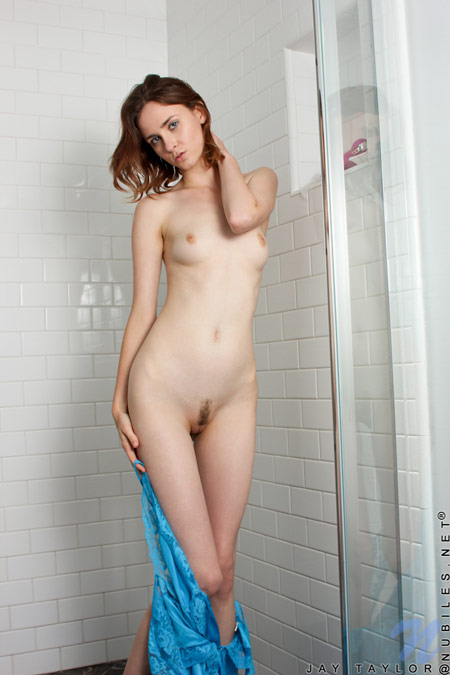 When we asked 20 year old all-American beauty Jay Taylor if she had a favorite place to masturbate, her answer was immediate and enthusiastic. "I love to go into the shower and make myself cum!" We weren't originally planning on a shower shoot, but once this sexy girl got the idea into her head she wouldn't be satisfied until she had a chance to pleasure her tight wet pussy while warm water cascaded down her perfect pale skin. Of course we had to give in to her pleas!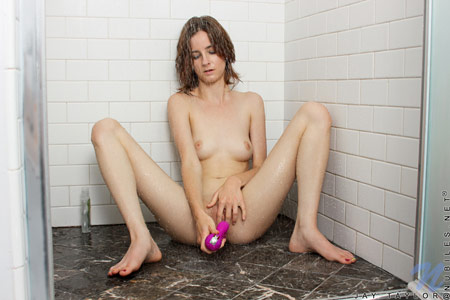 Walking right to the shower, Jay let her blue sundress slide down her lean toned body. When she reached for the big purple dildo sitting on the shower's only shelf, she laughed and told us that her soap and shampoo had to be kept in a separate shower caddy since her waterproof dildo was her most important shower accessory. "I've got sex toys hidden all over my house. There must be at least three or four in every room! But it's so convenient to have them handy so I can masturbate whenever I'm in the mood." We quickly learned that Jay wasn't kidding about showers putting her in the mood!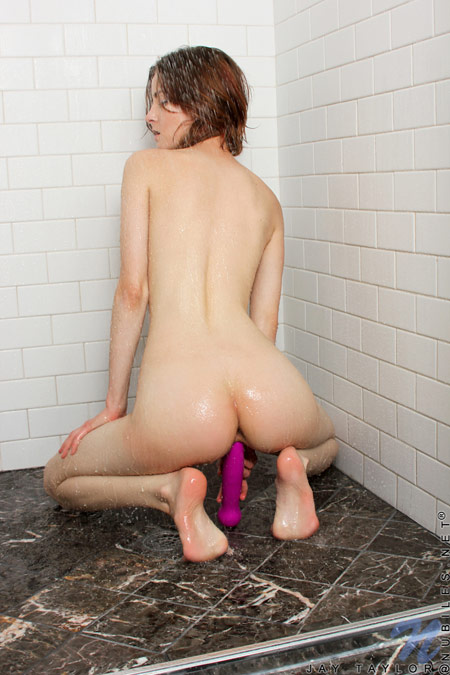 Within seconds she had the shower turned on to the perfect temperature so she could step under the spray and caress her hands all over her out-of-this-world body. Jay took her time, touching herself all over her perky tits with their diamond hard nipples and her flat belly. When she reached for her big dildo and slid it over her slick slit, we could see that her pussy was even wetter than the shower around her. "I love to bring myself to orgasm, but there's something really intimate about cumming in the shower," she told us as she pushed the dildo into her throbbing twat with a gasp and rubbed her sensitive clit. "I like to use all of my biggest toys in here. I think what I love most about the shower is the way everything is slippery and wet. There are so many different sensations." Closing her eyes and moaning loudly, she rose to her knees and slid the dildo in and out of her cunt. We knew this was going to be an incredible orgasm! Watch Jay demonstrate how sexy a shower can be in high-resolution pictures and video, only at Nubiles.net!

Nubiles.net.