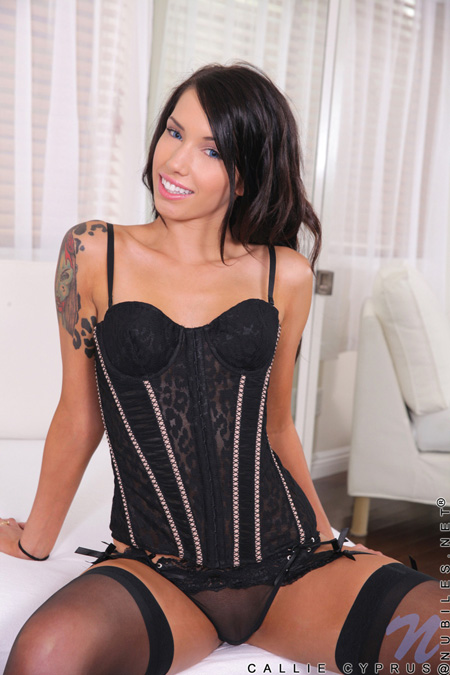 18 year old sex kitten Callie Cyprus loves anything leopard print. She's got leopard print shoes, purse, toothbrush, and even a leopard print tattoo. There's even some of her favorite print showing through the sexy lingerie she picked for today's shoot. In fact, the only thing this breath-taking beauty loves more than leopard is sex! "And of course, I love big cocks… The bigger, the better!" she told us. That's the main reason she couldn't wait to get into porn as soon as she turned eighteen. She enjoys getting fucked so much that it would be a dream come true to get paid for doing something you already love doing. Callie admits she's never had trouble getting men (no surprise there!), but there's an extra bit of excitement about fucking on camera… especially one who she met only minutes for the cameras started rolling.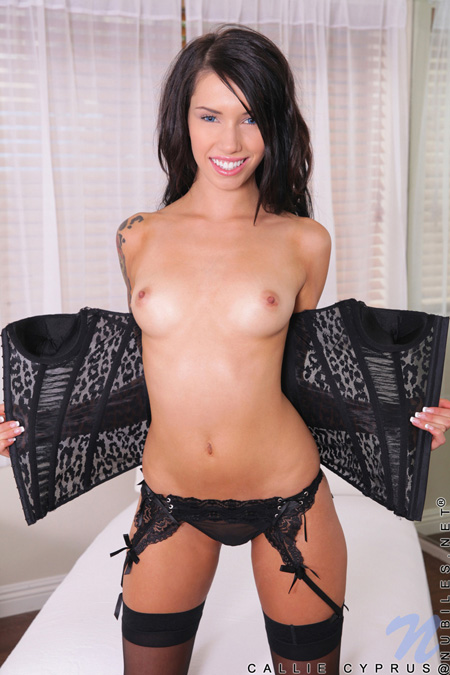 Callie looked absolutely jaw-dropping in her black lingerie and stockings, and her sheer black panties were just the cherry on top of an already tempting outfit. Her pussy lips and tiny pink clit peeked out from behind the see-through fabric. As she pulled her thong tight to show off her girly parts, Callie said "I really get off on having a guy lick my pussy right through my panties. The feeling is unbelievable and makes me cum every time!" She rubbed her pussy through her sheer panties and added "See? I'm getting wet just thinking about it!" I could tell this was going to be one hot shoot! She unclasped her corset and held it open, revealing not only the leopard print pattern on the inside, but also the tightest body I'd seen in a long time. Her small perky tits and slender waist leading down to curvy hips and long legs… there's not a better combination I can think of.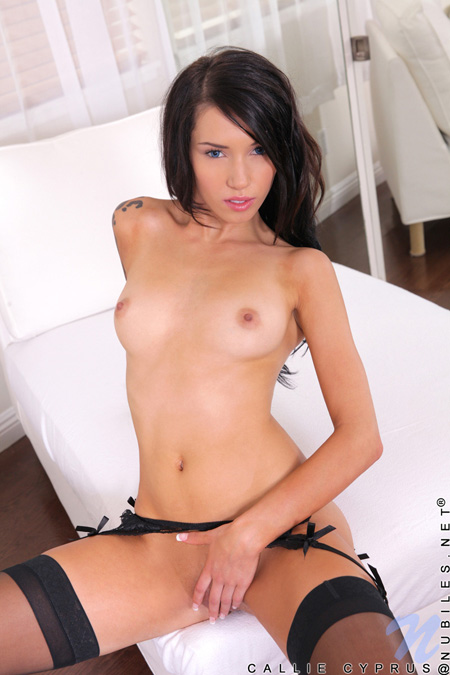 She unhooked her garter just long enough to slide her tiny g-string off, then reattached the garter to her black thigh high stockings and sat on the bed. She slid her hand between her legs and then spread her legs open, still hiding her sweet hairless pussy behind her fingers. This is a girl who definitely likes to tease! She flirted with the camera as she began rubbing her soft pussy lips, somehow managing to keep them concealed. Finally Callie lifted her hand, exposing a tight pink pussy that matched the rest of her body in it's tempting manner. I could see that her pussy had indeed grown wet and her tight hole was already glistening with moisture. "I'm ready for my orgasm now… are you?" she asked. I think everybody in the room was more than ready, and I'm willing to bet that you are too. So head over to Nubiles.net, where you can see sexy Callie bring her aching pussy to orgasm in high quality pics and video.