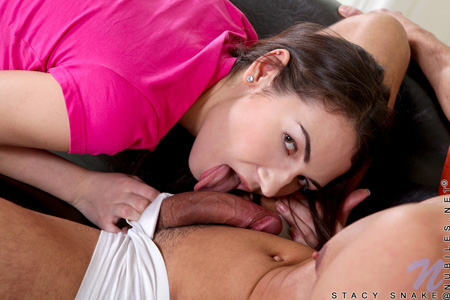 Stacy Snake is a twenty-two year old, Russian beauty who loves to show off her naughty side by getting down and dirty on camera. You can see in her eyes how much Stacy loves the cock. You can also tell by the way she licked her lover's rock-hard dick from top to bottom with such passion and enthusiasm you'd think she was getting down on a hot fudge sunday. Her man was laying flat on his back with his boxers pulled down to his thighs and his dick standing straight up. Stacy was on her knees, bent over, soaking his erect member with her pretty pink tongue. When she'd completely soaked every inch of his cock and his balls, Stacy put her mouth around the tip and started bobbing her head up and down, while making little sucking/slurping noises. Stacy sucked him so good that he soon started making some noises of his own. When she finally withdrew her mouth from his dick he said simply; "Best fucking blow job ever." Stacy's face lit up with pride. She took her blow jobs very seriously. She brought her face up close to his and said sweetly; "Well, now you can thank me by returning the favor." And he immediately replied; "With pleasure!"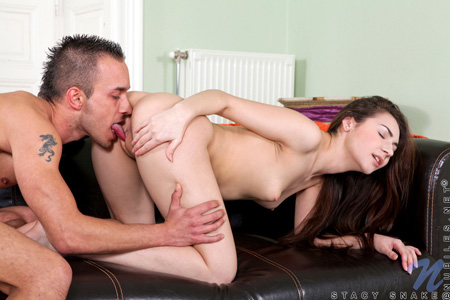 Stacy stood up and quickly stripped off every single article of clothing until she was standing in front of him completely naked. She couldn't wait for him to start going to town on her horny pussy. The playful banter between them had turned her on even more than she was already and the anticipation was growing more and more intense by the second. He ran his hands down her hot body, caressing her silky, smooth skin and squeezing each sensual curve. Then he maneuvered her onto the sofa where Stacy got on all fours in doggy style position. She arched her back and stuck her round ass up in the air. He grabbed onto Stacy's thighs, spread them a little, and finally leaned in for a taste of that sweet pussy. Stacy began to moan softly as the pleasure of his tongue swept over her whole body and took control of her. She reached back to spread herself open even more for him as he licked her, expertly teasing Stacy's g-spot. It didn't take long for Stacy to reach the climax. Her moans became louder and louder and finally she was screaming repeatedly; "I'm cumming!"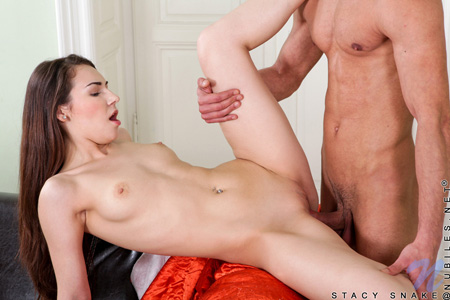 Now the two were more than ready for the real deal. Stacy lay on her back and spread her legs open wide. She looked up at him, teasing him with seductive bedroom eyes. He grabbed onto each of her thighs and then slowly slid his erect cock deep inside the sticky wetness of her hot pussy. The two groaned in unison at how amazing they felt together. He started thrusting his dick deeper and deeper as Stacy's horny pussy became wetter and wetter. This fuck fest is just getting warmed up so go check out the entire hardcore video right now, only at Nubiles.net.