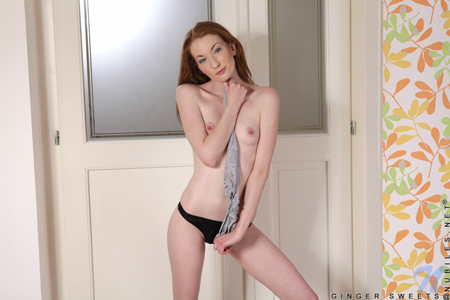 Nineteen year old Ginger Sweets is a tall, thin beauty with flowing chestnut hair and a smile so sweet it could melt any hardened man's heart. Very convenient for a girl whose favorite thing is hardened men. Well technically their hard cocks, but who's paying attention to little details like that when you've got a gorgeous horny sexpot stripping naked in front of them? "Knowing that I can make any man hard is such a turn-on. I've even made gay men question their sexual preference," she added with a smirk. As she slipped her tank top off over her head, Ginger did a seductive little booty-shaking dance to show off her petite figure. I knew one thing for sure… if I had a dick, it would certainly be hard right about then.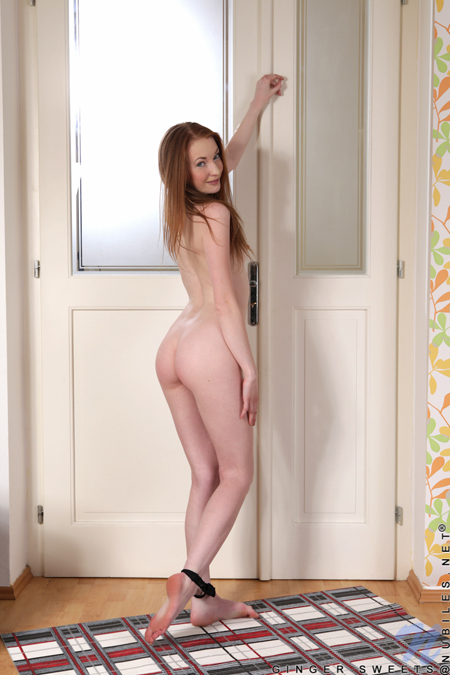 Ginger flipped her long hair over her shoulders and shook her head from side to side, letting her locks brush against her tiny tits and causing her nipples to grow stiff. Turning her back to the camera, she slid her black thong panties off, bending at the waist to ensure a spectacular view of her smooth pink pussy lips peeking out from between her legs. As she stood upright again, I couldn't help but admire the curves of her ass and how tight and round its cheek are. It's no surprise that this little vixen can turn a gay man straight.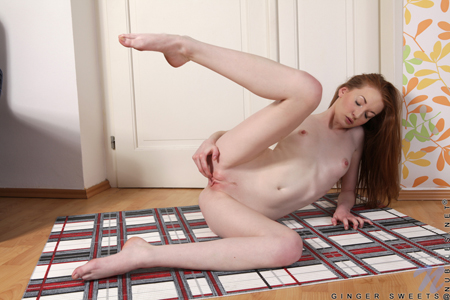 After she kicked off her panties, Ginger dropped to the floor and settled on the rug. She lay on her side and ran her fingertips from her slender neck, down over her little tits and pausing to flick her hard nipples a couple of times. Then across her flat stomach until she reached the tiny patch of hair above her clit. As she traced her hand over her hip and around her butt, she raised her leg, exposing her delicate pussy lips. She spread them apart with her fingers, and as she lubed her fingertips with her tongue, she told us "Whenever I masturbate without toys, I like to fantasize that somebody's licking my pussy. I'm really good at making my fingers feel just like a tongue." Then she closed her eyes and melted into her oral fantasy, licking her moist pussy and swelling clit with her lover's soft tongue. You can see the whole sexy set in high quality pics and video exclusively at Nubiles.net.